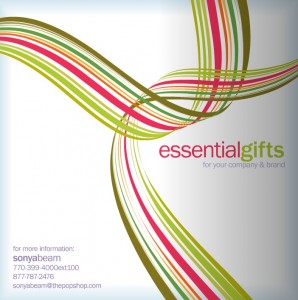 Soon the Halloween inventory will be on sale and the Holidays will be in full force.  You will want to remember your clients, employees, volunteers and other colleagues this holiday season.  Check out these holiday essentials for your brand. Our digital catalog is full of gifts of all price points.  Consider these ideas as you browse:
-  Food Gifts - perfect for sharing.  Now available with your logo – Harry & David gifts!
-  Awards - Annual Awards, Years of Service, there's lots of ways to recognize your MVPs!
-  On-the-go Gifts - Road Warriors will delight when you think of them.
-  Gifts for the Home - Gifts that can be shared with a family.
-  Toast the New Year - Forward thinkers are already focused on 2011, toast with these great gifts.
Need more gift ideas? Follow us for your daily dose of creativity!
Twitter @sonyabeam |  Facebook www.bit.ly/FBPOP