Ever Monday Matters. Make a difference.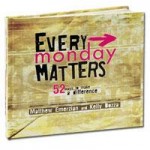 Ever Monday Matters. 
Imagine, sharing this book with your entire organization. Your company can make the difference by giving the book and encouraging others.
See the video – Wow. Millions of people each year want to know how to make a difference … in their lives and the lives of others. We suggest taking it one-week at a time with 52 uncomplicated, practical things you can do to make a difference with your life and in your community.
If you are like most people, you want to contribute, make a difference, and have a positive impact, but, maybe you don't know what to do, where to go, when the "right" time is, or how to get others involved.
Every Monday Matters: 52 Ways to Make a Difference can be imprinted with your company logo or message. Three choices: Cover imprint, promo page insert or custom jacket. 50 piece minimum, inquire for pricing.  sonyabeam@thepopshop.com
Hardcover, 7 x 7.5," 144 pp.