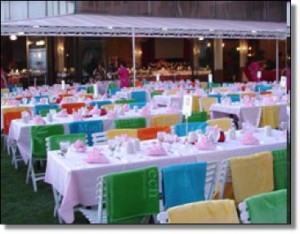 It's so nice to enjoy a little spring-like weather. Reminds me that summer is just around the corner.  Here's a few summer ideas that would be perfect for most any brand.
Tone-on-tone Towels
Tone-on-tone decorating is a subtle way to brand a beach towel.  It's retail appeal increases the desired usability of the product, which equals more visibility for any brand.  As shown, you can mix a few colors to

match your brand color or choose a few colors to brighten any event.  Tone-on-tone effects can be decorated on beach towels, fitness towels and golf towels.
Saddle Bag Tote
Stay organized at the beach or the pool with the exclusive new Saddle Bag Cooler and Tote. This ingenious product conveniently keeps all of your essentials neatly organized and within reach. An insulated cooler on one side carries food and beverages; a spacious storage bag on the other side has special compartments for keys, iPods, smartphones, sun screen and your favorite beach magazines or books.

Both totes are connected with a wide, adjustable mesh strap that also allows you to carry your towel. Contoured rubber grips make it easy to close and carry. Easily adjusts to any size lounge chair. Available in red, sunshine yellow, royal blue or lime green.
Surfboard Towels

Surfboard-shaped towels are the must have product of the season. These velour towels are an enormous 32″ x 80″ and make the perfect lounge chair cover or beach towel. Be sure to stand out, for both innovation and high impact.  Consider surfboard-shaped towels. These will make a great addition to your 'board' meetings, web-surfing themes, incentive trips or company picnics.

Want more great ideas?
Let's Connect!  Twitter @sonyabeam | Facebook  Facebook.com/SUPAHRO | YouTube  Youtube.com/SUPAHRO
The POP Shop – a division of Geiger  | www.thepopshop.com